KCCC is a parent-managed centre whose parents are members.  The members appoint the Board of Directors of the co-operative. The board has a governance role and sets the mission, vision and strategic plan for the centre. The board also appoints the General Manager, who is responsible for the management of the centre.
KCCC is a member-based not-for-profit co-operative and its financial accounts are independently audited and filed annually with the Australian Charities and Not for Profits Commission (ACNC).
Executive Committee
Consists of the Chair, Secretary and Treasurer
Holds some special decision making powers
Has specific responsibilities to the Department of Consumer Affairs (regulator of the Co-Operatives Act)
Elected to manage the governance of the board
Board
Elected by co-operative members at the Annual General Meeting (AGM).
Responsible for the appointment and management of the General Manager.
Each of the non-executive board members may sit on a sub-committee, working group and/or may be responsible and accountable for one of the boards guiding documents
The quorum for a board meeting is five of the nine board members.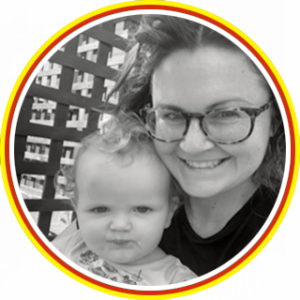 Kate Zimet
Chair
KCCC has been a central part of Kate's life in Kensington since her son, Benjamin, first attended the service in 2018. Benjamin has now left KCCC for school life while her daughter Sara remains a member of the KCCC Acacia Room.
Kate values the consistent, nurturing and tireless work of all the educators who support her children, and, by extension, her whole family. This commitment by the staff and the management team has continued throughout the challenges we have all faced due to coronavirus in recent years.
Kate is a barrister at the Victorian Bar practising in civil disputes including employment and industrial law, common law and commercial law. Kate has advised and appeared in a range of employment and industrial matters including unfair dismissals, underpayments claims, general protections, discrimination claims, workplace investigations and proceedings concerning the protection of confidential information and disputes about other terms and conditions of employment including redundancy claims. Kate also has significant experience in personal injury litigation. Kate has also appeared before disciplinary boards and in inquiries.
Prior to coming to the Bar, Kate worked at Slater and Gordon Lawyers. She also clerked for a judge in the Supreme Court of Victoria in both the trial and appellate jurisdictions of the Court.
Prior to moving to Kensington in 2013, Kate enjoyed living in other cities including In New York and Washington DC.
Evette Castle
Treasurer
Evette has been a member of KCCC since 2019 when her son Spencer joined the Yarragum room as a 10 month old. Watching him grow and develop as well as having a lot of fun and building relationships with the other children and carers has been truly amazing and a credit to the KCCC team. Hence, Evette wanted to give back to the community that is doing so much for her and Spencer, by joining the Board in August 2020 and taking on the role as Treasurer.
Evette is a qualified CPA with experience supporting senior leaders and executives across a diverse range of industries and types of organisations including energy, property and legal, as well as a mix of ASX listed and private equity. Her experiences include management and board reporting, statutory reporting, investor results presentations, business planning and forecasting, scenario planning, system and process improvements and business partnering. She is passionate about adding value and contributing to the organisation's success.
Outside of work Evette enjoys spending time with family and friends, keeping active with Spencer wandering the streets of Kensington with the dog in tow from playgrounds to the river to the diggers and trains, keeping his inquisitive mind occupied.
Belinda Furse
Secretary
Belinda and her family joined the KCCC community in 2016. Belinda grew up in country Victoria and loves living in Kensington – particularly because of the beautiful families and community spirit.   
Belinda is so grateful for the wonderful care, support and commitment from the KCCC staff and management team. Being on the Board will provide Belinda with an opportunity to contribute to the KCCC community and support the children, families and educators in a meaningful way. 
Belinda is a senior lawyer turned well-being coach, fitness professional and speaker. Belinda spent most of her legal career working at a leading Australian law firm. As a personal injury litigation lawyer, she gained a deep understanding of workplace injuries and the importance of creating a mentally healthy workplace. Throughout her work in Australia and the UK, she witnessed many lawyers and leaders struggle with stress, anxiety and burnout. In January 2020, Belinda founded a corporate health and wellbeing company. Belinda inspires lawyers every day to make lifestyle changes that will help them have increased energy, happiness and motivation! 
During downtime Belinda loves gym workouts, meditating, spending quality time with family and friends and exploring Melbourne cafes.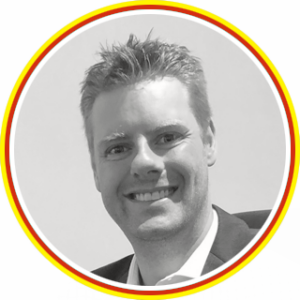 Adam Clarke
Director
Adam is an extremely passionate, engaged and active parent within the KCCC community who wishes to give more to the organisation through using his extensive organisational leadership skills to contribute to the Board.
Adam is a career manager with over 20 years' experience in senior management roles within the for-profit and not-for-profit sectors, including his current role as Director, Adam Clarke Consultancy Pty Ltd.
Adam has a proven track record of success in each role that he has occupied – all the way back to his time in the State swimming team racing against Kieran Perkins for a spot in the Olympic team!
Adam aims to enhance the delivery of early childhood education to every child that attends KCCC.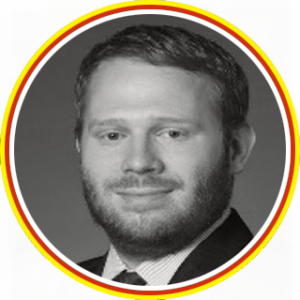 Nick Laurie
Director
Nick and his family have been members of KCCC since 2018 when Teddy joined the Yarragum room as a troublesome baby "speedy gonzalez" (in the words of his educators at the time). Teddy is now in the Appletree kindergarten room while sister Tig is a member of the Banksia room.
Nick has particularly valued what a supportive, safe and stimulating environment his children have experienced at KCCC under the care of the wonderful educators.
Nick's hobbies include beer brewing (and drinking), knife making and cooking.
Professionally, Nick works as a senior lawyer at law firm Corrs Chambers Westgarth. He acts for clients in the construction and resource industry in large scale project and infrastructure disputes, specializing in arbitration. At work, Nick is especially passionate about promoting flexible working and diversity in the legal profession. He works part-time, so he can split care-giving of the kids with his wife Heidi, who is also a lawyer.
Prior to working in commercial law, Nick worked in counter-piracy (the real ones, not the DVD kind) at the United Nations in Nairobi, Kenya and as a legal researcher at the University of Melbourne.
Nick would bring skills in law, risk management, strategic planning, communication and governance to the Board. His main driver for joining the Board is to contribute these skills to the KCCC and wider Kensington community.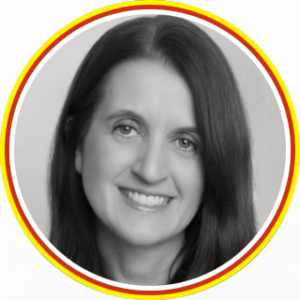 Sarah McCartney
Director
Sarah has been part of the KCCC community for nine years and has long believed that KCCC holds a special place in the Kensington community.
Sarah is grateful for the supportive, inclusive environment and experiences that KCCC extends not only to children, but to parents, carers and the broader Kensington community, making it truly unique among early years education providers.
Sarah is an experienced international communications and marketing professional and executive leader.
She has broad experience in business, governance and commercial management and has chaired and served on many steering committees, strategic advisory groups and industry associations during her 20+ year career.
Sarah deeply values the importance of early years education and the impact this has on school years and into adulthood.
She also acknowledges the positive impact the KCCC has, and continues to have, on her own children and the wonderful commitment and hard work of the educators.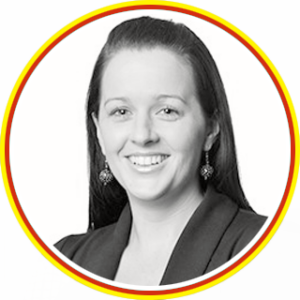 Sophie O'Connor
Director
Sophie is a Kensington local and has been a member of the KCCC community since 2017.
She and her family love being a part of KCCC and its thriving culture.  Harriet attended the centre through to school age and Matilda is now in the Boronia room.
Sophie is a strategy and public policy professional with expertise in the education sector.
Sophie began her career in education policy at the Departments of Education and Premier and Cabinet, working on a range of funding and regulatory reforms.  She then transitioned to management consulting, where for the last decade she has worked with a diversity of public and non-profit clients to help set their strategic agendas, respond to changing policy environments and improve their performance.
Outside of work, Sophie loves to spend time with family and friends in and around Kensington.
You'll find her in local pilates classes, running groups and at any and all cafes and playgrounds.
Sharu Varghese
Director
Sharu and her family have been part of the KCCC community for the last 5 years since her daughter Isabelle started in Yarragum and began round 2 with her son Alex in 2021.
She loves the sense of community that KCCC nurtures and feels lucky to be part of it.  She has been an active member, previously serving on the FACE (Fundraising and Community Engagement) committee in 2019.
Growing up in India, Sharu and her family came to Melbourne in 2014.
Sharu is an IT  professional with over 12 years of experience providing technology consulting for various industries, specialising in data and analytics strategy.
Sharu has also organised and volunteered for various NGOs through the years, helping to raise and manage funds.
Sharu is very keen to contribute in making sure KCCC continues to become a centre that the community is proud of and children love.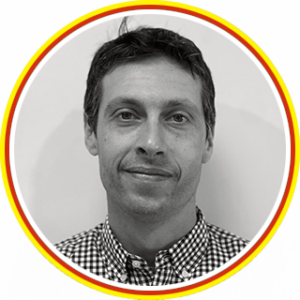 Sam Buckley
Director
Sam has been a Kensington local since 2019 and a KCCC board member since 2022.
Sam's oldest daughter Matilda commenced with KCCC in the Banksia room is early 2021 and his youngest Isabelle started in 2022 in Yarragum.
Since day one, Sam's daughters have loved every minute of being part of the KCCC community and his desire to join the board was driven by a sense of wanting to give back to the community and help drive the centre forward to best suit the needs of the Kensington community.
Professionally, Sam works for the Australian Football League (AFL) in the Commercial and Stadium areas and he has worked across various roles in Entertainment, Sport, Venues and Technology over the last 15 years.
On the weekend, you'll find Sam and the kids likely running and scooting around the local parks, enjoying everything that our lovely community has to offer. 
Enrol to be a member of the board
Contributing to the KCCC board is a wonderful opportunity to be involved in your child's service.
The Board is responsible for directing, influencing and monitoring the organisation's business. The board is ultimately responsible and legally accountable for determining the purpose (or mission) of the organisation the continuity of the organisation setting the organisation's rate of progress in reaching its mission establishing the identity of the organisation by securing community support and appreciation for the organisation's purpose and long- term direction.
Being part of the KCCC is very rewarding in many ways. What are the benefits of being a not-for-profit board member?
Better health and greater wellbeing
Financial literacy
The satisfaction of achievement
A warm inner glow
Social contact with a great group of people
A world that's the better for your involvement
New networks experience that can benefit employment
A comment from an ex KCCC board member, "I have now moved out of Kensington. Some of my closest friends I made are the ones I met as part of the KCCC board. When I come back to Kensington, these are the people I see and am connected with". Malene Platt, 2017. (Board member, 2014-2015)
If you are interested in joining the board, please contact the General Manager or update/complete the skills register if you have not already done so to express your interest.