KCCC is a parent-managed centre whose parents are members.  The members appoint the Board of Directors of the co-operative. The board has a governance role and sets the mission, vision and strategic plan for the centre. The board also appoints the General Manager, who is responsible for the management of the centre.
KCCC is a member-based co-operative, which is a legal entity similar to a company. However KCCC is a not-for-profit organisation and its accounts are independently audited and filed annually with ASIC.
Executive Committee
Consists of the Chair, Secretary and Treasurer
Holds some special decision making powers
Has specific responsibilities to the Department of Consumer Affairs (regulator of the Co-Op Act)
Elected to manage the governance of the board
Board
Elected by co-op members at the Annual General Meeting
Responsible for the appointment and management of the General Manager
Each of the non-executive board members may sit on a sub-committee, working group and/or may be responsible and accountable for one of the board guiding documents
The quorum for a board meeting is five of the nine board members.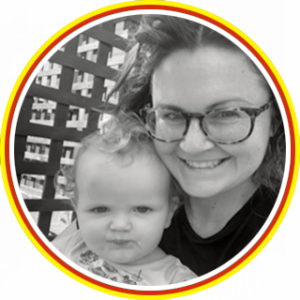 Kate Zimet
Chair
KCCC has been a central part of Kate's life in Kensington since her son, Benjamin, first attended KCCC in 2018. She now has two children at KCCC – Sara in the Gumnut Room, and Benjamin in Acacia. Kate values the consistent, nurturing and tireless work of all the educators who support her children, and, by extension, her whole family. This commitment by the staff and the management team has continued in 2020 despite the challenges we have all faced this year due to coronavirus.
Kate is a barrister at the Victorian Bar practising in civil disputes including employment and industrial law, common law and commercial law. Kate has advised and appeared in a range of employment and industrial matters including unfair dismissals, underpayments claims, general protections, discrimination claims, workplace investigations and proceedings concerning the protection of confidential information and disputes about other terms and conditions of employment including redundancy claims. Kate also has significant experience in personal injury litigation. Kate has also appeared before disciplinary boards and in inquiries.
Prior to coming to the Bar, Kate worked at Slater and Gordon Lawyers. She also clerked for a judge in the Supreme Court of Victoria in both the trial and appellate jurisdictions of the Court.
Prior to moving to Kensington in 2013, Kate enjoyed living in other cities including In New York and Washington DC.
Evette Castle
Treasurer
Evette has been a member of KCCC since 2019 when her son Spencer joined the Yarragum room as a 10 month old. Watching him grow and develop as well as having a lot of fun and building relationships with the other children and carers has been truly amazing and a credit to the KCCC team. Hence, Evette wanted to give back to the community that is doing so much for her and Spencer, by joining the Board in August 2020 and taking on the role as Treasurer.
Evette is a qualified CPA with experience supporting senior leaders and executives across a diverse range of industries and types of organisations including energy, property and legal, as well as a mix of ASX listed and private equity. Her experiences include management and board reporting, statutory reporting, investor results presentations, business planning and forecasting, scenario planning, system and process improvements and business partnering. She is passionate about adding value and contributing to the organisation's success.
Outside of work Evette enjoys spending time with family and friends, keeping active with Spencer wandering the streets of Kensington with the dog in tow from playgrounds to the river to the diggers and trains, keeping his inquisitive mind occupied.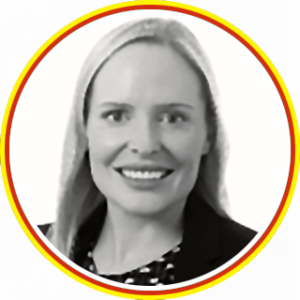 Sian Summers
Secretary
Sian and her family joined the KCCC community back in 2016. She loves living in Kensington – particularly the community spirit, the history, the diversity, the parks and the abundance of good coffee.
Sian truly values the care and support their family receives from the team at KCCC and have formed some great friendships with the educators and other families over the last few years. Being on the Board, since 2019, has provided her the opportunity to give back to the KCCC community and support the children, families and educators in a purposeful way.
Sian works as a management consultant in a professional services firm. Her days typically involve supporting clients across private, government and not-for-profit sectors with transformation planning and delivery and the design of strategic workforce solutions.
Growing up in the fine pastures of New Zealand, Sian has since spent time living and working in the UK, US, Brazil and Argentina – and now calls the wonderful city of Melbourne 'home'. The best city in the world in her opinion.
Kiri Martyn
Director
Kiri Martyn is passionate about giving children a great start in life, and appreciates the opportunity to give back to the wonderful Kensington and KCCC communities through her involvement with the KCCC Board of Directors.  Kiri and her husband Cam have two children, Ella and William who love attending the centre and who are thriving there.  Newly arrived baby Zoe is already on the waitlist of course!
For ten years Kiri enjoyed a career as a Physiotherapist in the Public Health sector, mainly working in the areas of Aged Care and Rehabilitation.  More recently she made the shift to work as a Care Coordinator at Western Health.  For the past five years she has worked as the Senior Clinician in a team focused on hospital access and flow and discharge planning for complex patients who are frequently admitted to hospital.  Kiri's experience as a clinician in the public health sector, along with her passions for early childhood development and the welfare of our elderly community members will inform her input as a member of the KCCC Board of Directors.  She also hopes to be a voice for Healthcare and other essential workers during the COVID-19 pandemic.
In her "spare" time – Kiri enjoys keeping fit with CrossFit, yoga and running, eating out, travelling and going to dance/theatre/circus performances.  In reality, Kiri daydreams about such pursuits while wrangling three small children to cafes/playgrounds within walking distance of home.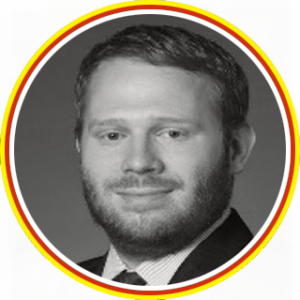 Nick Laurie
Director
Nick and his family have been members of KCCC since 2018 when Teddy joined the Yarragum room as a troublesome baby "speedy gonzalez" (in the words of his educators at the time). Teddy is now in the Wattle room which he has loved for the last 2 years.
Nick has particularly valued what a supportive, safe and stimulating environment Teddy has experienced at KCCC under the care of 3 wonderful sets of educators.
Nick, his wife Heidi and Teddy welcomed baby Tig to their family late last year. Nick is currently on parental leave spending lots of quality lockdown time with Teddy and Tig couped up in their small Kensington apartment. They are surviving (just!). His hobbies include beer brewing (and drinking), knife making and cooking.
Professionally, Nick works as a senior lawyer at law firm Corrs Chambers Westgarth. He acts for clients in the construction and resource industry in large scale project and infrastructure disputes, specializing in arbitration. At work, Nick is especially passionate about promoting flexible working and diversity in the legal profession. He works part-time, so he can split care-giving of the kids with his wife Heidi, who is also a lawyer.
Prior to working in commercial law, Nick worked in counter-piracy (the real ones, not the DVD kind) at the United Nations in Nairobi, Kenya and as a legal researcher at the University of Melbourne.
Nick would bring skills in law, risk management, strategic planning, communication and governance to the Board. His main driver for joining the Board is to contribute these skills to the KCCC and wider Kensington community.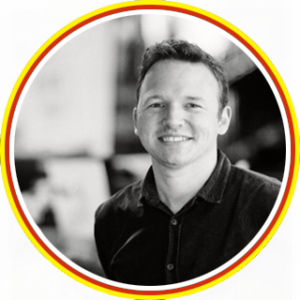 Ben Knighton
Director
Ben Knighton has been a member of KCCC since 2018. He is the proud father of my two beautiful boys – Charlie (Gumnut) and Louis (Yarragum). Ben brings 15+ years of experience developing highly effective integrated marketing communications for some of the world's largest and most iconic brands including HSBC, Unilever, Nestle, Vodafone and NAB.
Ben started his professional career in advertising agencies in London and moved to Melbourne in 2013 when he was sponsored by Clemenger BBDO, Australia's largest communications network, to relocate.
After nearly 5 successful years at Clemenger Melbourne, and helping them to be named number one agency in the world, Ben moved to work at NAB and currently head up their Brand Communications team. He's been responsible for strategic planning, ownership of large budgets ($20m+) and leading and developing large teams. He is also a current scholar of the highly selective and internationally renowned leadership program The Marketing Academy Scholarship.
Since Ben's children started at KCCC he's been involved in working bees and social events and can't wait to be able to begin them again. His family have been blown away by their involvement with KCCC so far, and all the team who work there.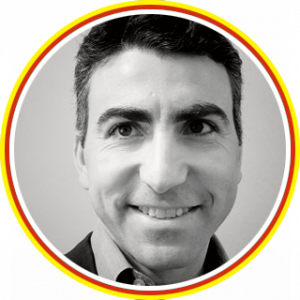 Anthony Trantino
Director
Anthony and his wife Ali moved to Kensington some years ago now because they really love the community focus in a suburb so accessible to the city.
Anthony works in the energy industry as an Engineering Manager overseeing many construction projects on the east coast of Australia. He has strong skills in contractor management, cost control, and is driven by delivering projects efficiently and in a cost effective manner.
Anthony grew up on a 300 acre cattle farm in Gippsland and moved to Melbourne after studying Mechatronic Engineering at uni. He brings an abundance of practical skills, he and his son John love rolling thier sleeves up, putting on our tool belts and getting stuck into a good working bee!
Anthony enjoys cycling, skiing, hiking and camping, the you may see him on his daily cycle commute to the centre with John in tow. Anthony also enjoys his reignited passion for Lego!
Anthony's family will be part of the KCCC community for many years to come and he plays an active role as a director on the board.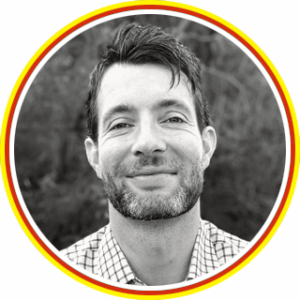 James Watson
Director
James is the proud father of Evie and Jude. He and his wife Ally have lived in Kensington for nine years and enjoy the village feel of the suburb and being gently lulled to sleep by the late-night tunnelling works at South Kensington station. With two children attending KCCC, James is passionate about ensuring the cooperative's continued success and sustainability and maintaining its friendly and inclusive atmosphere.
In working hours James wears a variety of blue and white checked shirts, uses words like 'agile' and 'synergy' and oversees the performance, service development and quality and safety of mental health services throughout Victoria. The skills James has developed in his career will help in identifying any potential areas for service improvement in KCCC and maintaining the high level of care that his own kids have already received from the excellent educators and staff at KCCC.
James spends his time outside work alongside Ally, negotiating each individual aspect of the day with his three-year-old daughter, wiping his son's nose and straining his lower back.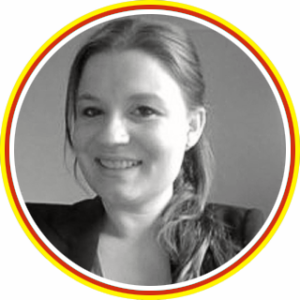 Virginia Wills
Director
Virginia Wills currently works full time as an industrial officer at the United Firefighters Union. Prior to that, she was a paralegal at a mid-size law firm in Brisbane. Virginia and her partner have one child, Keith, who attends KCCC fulltime.
Virginia's board experience includes current membership on the management committee of the Melbourne Community Toy Library, a position she has held since 2018. Until going back to work in July last year Virginia was a City of Melbourne Playgroup Leader. she is enthusiastic about contributing what she can to her local community and our wonderful KCCC.
Enrol to be a member of the board
Contributing to the KCCC board is a wonderful opportunity to be involved in your child's service.
The Board is responsible for directing, influencing and monitoring the organisation's business. The board is ultimately responsible and legally accountable for determining the purpose (or mission) of the organisation the continuity of the organisation setting the organisation's rate of progress in reaching its mission establishing the identity of the organisation by securing community support and appreciation for the organisation's purpose and long- term direction.
Being part of the KCCC is very rewarding in many ways. What are the benefits of being a not-for-profit board member?
Better health and greater wellbeing
Financial literacy
The satisfaction of achievement
A warm inner glow
Social contact with a great group of people
A world that's the better for your involvement
New networks experience that can benefit employment
A comment from an ex KCCC board member, "I have now moved out of Kensington. Some of my closest friends I made are the ones I met as part of the KCCC board. When I come back to Kensington, these are the people I see and am connected with". Malene Platt, 2017. (Board member, 2014-2015)
If you are interested in joining the board, please contact the General Manager or update/complete the skills register if you have not already done so to express your interest.